WWE Hell in a Cell on Sky Sports
Shane McMahon and Kevin Owens square-off in one of the most personal battles of the year at WWE Hell in a Cell, live on Sky Sports Box Office in the early hours of October 9.
Owens, who attacked Shane's 72-year old father Vince in the build-up to the match, will get his hands on the Smackdown Commissioner inside the steel structure.
McMahon has a history of daredevil moments in previous Hell in a Cell matches, including jumping off the roof of the cage and crashing through a table during his match with The Undertaker at Wrestlemania last year.
India v Australia,Today, 09:00am
India v Australia – 4th ODI
Virat Kohli To Score The Most India Runs
Charlotte Flair has a one-on-one title shot at a pay-per-view for the first time since joining Smackdown as she takes on Natalya.
The pair represent two of the most famous families in WWE history, with Flair being the daughter of 16-time World Champion Ric and Natalya being the niece of both Bret Hart and Davey Boy Smith.
The Usos end their magnificent rivalry with The New Day with one more match for the Smackdown Tag Team Championships.
The pair stole the show at SummerSlam and this is being billed as the last time the two teams will get in the ring against each other.
The WWE Championship is also on the line as Jinder Mahal defends against Shinsuke Nakamura.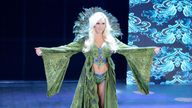 WWE updates straight to your phone
How to receive all the latest WWE news straight to your mobile
WWE Hell in a Cell booking details
WWE Hell in a Cell will be repeated on Sky Sports Box Office (channel 491) BUT NOT Sky Sports HD Box Office (492) between 10am on Monday, October 9 and 8pm on Tuesday, October 10.
Repeat showings will take place every four hours, with the final showing STARTING at 8pm on Tuesday October 10.
The event is priced at £14.95 for UK customers, €21.95 for viewers in the Republic of Ireland.
Viewers can call 03442 410 888 to book WWE Hell in a Cell (There may be an additional charge for telephone bookings).
You can also book WWE Hell in a Cell NOW by visiting this link: https://my.sky.com/orderboxoffice/
Viewers can also book using their Sky TV remote by pressing the 'Box office' button and following on-screen instructions. (Only bookings via Sky TV remote are recordable using Sky Plus).
Sky TV residential customers only. Commercial customers contact Sky for price and to order. Sky Box Office terms apply. Cable customers should contact their local cable operator.